Yr 3 students admiring the flowers on the Bridle Path.
This term the Year 3/4 team at Selwyn House School in Christchurch have been researching and exploring significant landmarks in their local community.
We wanted the girls to understand that:
Each landmark has some historical significance
We record the past for future generations because it helps us to understand the world that we live in
Historical landmarks/places are used to promote our city.
We started our topic by touring our city and looking at some of the landmarks in our city. The landmarks we looked at closely were The Cathedral, The Chalice, Bridge of Remembrance, Arts Centre, Museum, The Gardens and Victoria Park.
During the term we researched our landmarks by using the internet, reading books and interviewing special friends and grandparents.
As a celebration of our learning, we went for a walk along the Bridle Path, which is at the top of the Port Hills. We looked over the city and felt very proud to be a part of it.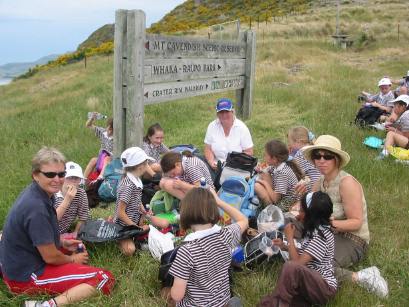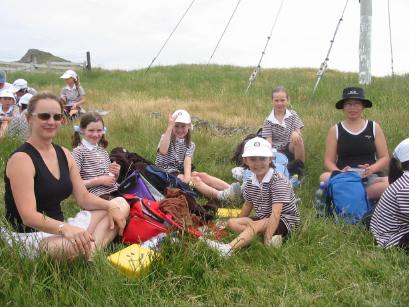 Here we are enjoying lunch on our walk down the Bridle Path.
Selwyn House School, 122 Merivale Lane, Merivale, Christchurch, New Zealand. Phone (03) 3557 299.

© Copyright December 2003, Selwyn House School.